Yeah… he's waiting for these 3d P-40 and F-4 planes to be done… Will show some progress later.
Anyway, that's another drawing done with the iPad. but this time not using my finger but a TnB stylus.
After trying a friend's Pogo Stylus, i didn't liked the foam rubber tip of it… Too big and soft.
Reading this well done article about drawing on the iPad, i found there was also the TnB stylus, with plain rubber tip. So ordered it… Well i first found it more precise due to the more rounded  rubber tip, but then as they say in the article it's true the rubber doesn't slide well enough on the glass screen surface, it kind of hang on the screen. Difficult to do a straight line fast for example… So back at home , was scratching my head thinking how i could do to make that stylus tip slide properly on the screen… lubricate ? Nah… imagine the greasy screen after a drawing session Erk ! It's dirty enough with my fingers already. Was in the kitchen , and my eye fell on a plastic bag containing bread on the table… That bag made of very thin and soft plastic film, so took the bag (ate the bread left…).
Cut a piece, and wrapped it around the stylus tip, fixed with some tape.
And it works. It slides just fine on the screen, a real pleasure…
One more thing… A friend stole his kids Lego to do a stand for his iPad, just cool :P
Here some picts with mine standing on, it can support the thing horizontally or vertically ( with the USB plugged in and a place for the stylus… :p ) with no problem :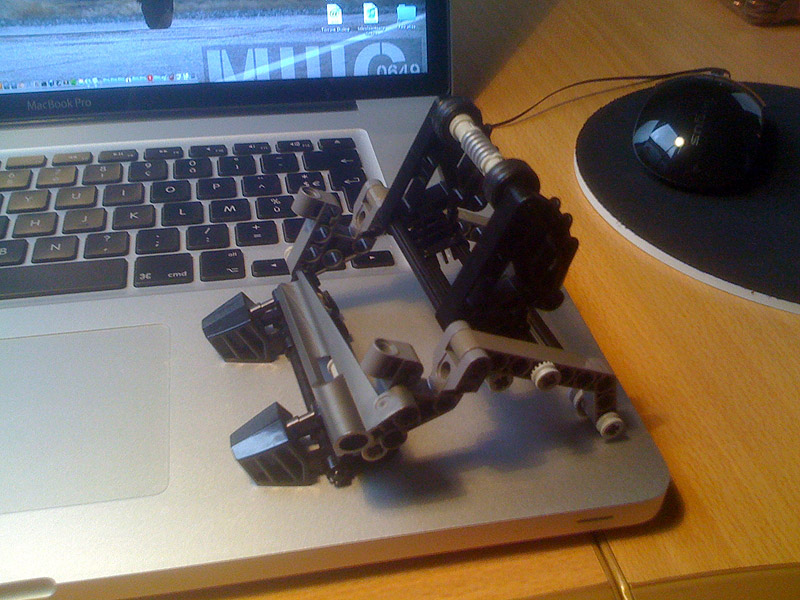 Wish i had kids…
Cheers